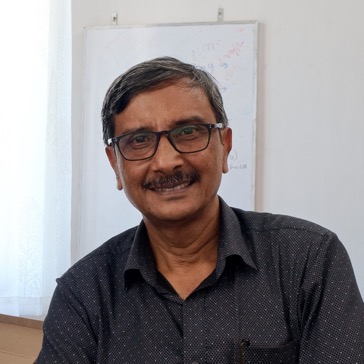 Background
2011 Professor
2005-2011 Associate Professor
1999-2005 Assistant Professor in Chemistry, IIT Guwahati
1998-1999 University of Minnesota, Prof. L. Que, Jr.
1994-1997 University of Kansas, Prof. A. S. Borovik
Ph.D. 1993 IIT Kanpur, Prof. R. N. Mukherjee
M.Sc. 1987 University of North Bengal
B.Sc. 1984 A. B. N. Seal College Cooch Behar

Positions held
2009-2012. Consultant, Hindustan Unilever Limited Research Centre
2008-2009 Head, Centre for the Environment, IIT Guwahati

Other activity
Served as reviewer of manuscripts in American Chemical Society, Royal Chemical Society and Elsevier journals. Served as external expert in selection committee of multiple institutes. Invited lecture or chairing the session in number of conferences or reputed Institutes/University in India.


Google Scholar * ResearchGate * Scopus * ORCID * Researcher ID

email: manabray @ iitg .ac.in