Ergonomics is the scientific decipline concerned with the understanding of interaction among human and other elements of a system, and the profession that applies theory, principles, data and methords to design in order to optimize human wellbeing and overall system performance. Ergonomics contribute to the design and evaluation of tasks, jobs, products, environment and system in order to make them compatible with the needs, abilities, and limitations of people/ users. There is urgent need to introduce the subject 'Ergonomics/ Human factors Engineering' in the curricula of engineering, Technology and Design education to produce skilled and expert manpower with technical know-hows of Ergonomcis. In order to deliver user friendly product and production system along with promotion of quality of work-life, use of ergonomics principles in all aspects of life is of utmost necessity.
&nbsp With the Various initiatives of Indian Govt. (e.g. 'Make in India', 'Skill India', 'Start Up India' and 'Stand Up India'), there is many fold enhancement in design and development of innovative products and processes in India. Technical education and skill-based education has also got momentum and is playing crucial role in employment generation. With the advent of all these activities, importance of the subject/ specialization 'Ergonomics/ Human Factors Engineering' is being felt by the Engineers/ Designers to develop user friendly products or facilities design. Application of scientific principles and appropriate technology may generate a design/ work-system best to deliver its intended functions; still its user ultimately has to feel comfort/ trust while using it. Human compatibility factors in terms of physical, physiological and cognitive aspects need to be considered. To impart know-hows of Ergonomics in every design and development process, general awareness is needed to be spread among technology teachers/ research scholars. Proposed program would inspire them to incorporate the subject Ergonomics in their curriculum of Engineering/ Technical educations. Presently, majority of the engineering/ technical education related curricula in India are deprived of the subject 'ergonomics'. Due to lack of knowledge of Ergonomics/ Human Factors, the end deliverables of the projects (Bachelor thesis/ Master thesis etc.) are not user compatible. Although the developed products/ instrument/ devices are successful in terms of functionality, completely failure from the view point of usability, aesthetic and user acceptability. Hence, the input of ergonomics is very essential for the engineers/ technical persons/ managers as this subject deals with functional reliability, usability, safety of a product/ facility as well as the performance, productivity and efficiency of human-machine-environment system. Information on human compatibility to derive various design elements and design-constraints along with aesthetics are of utmost importance for successful product (tools/ equipment/ devices or any other item) or workplace design.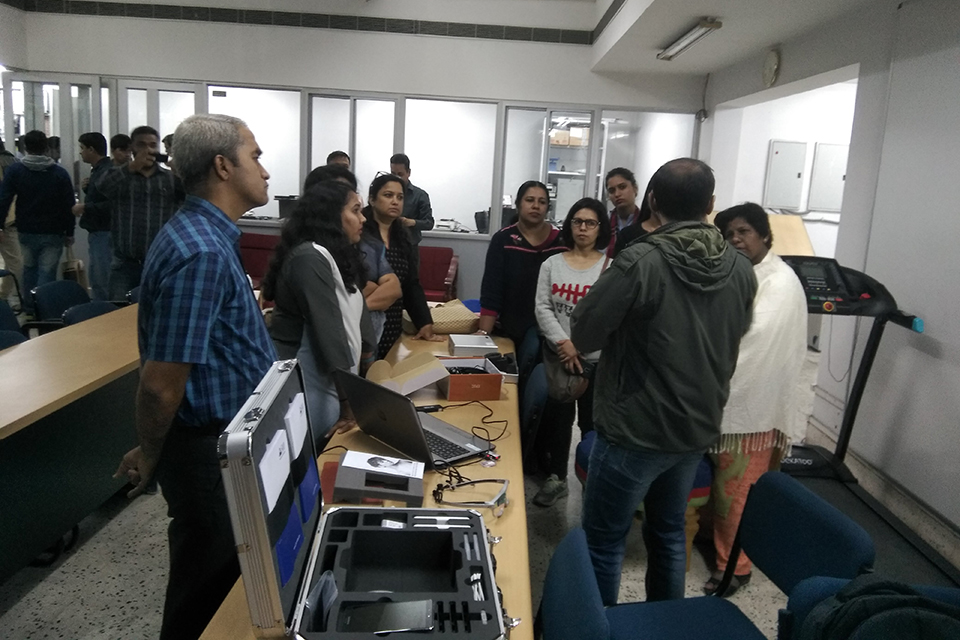 Course Contents
Fundamentals of Ergonomics / Human factors
Design Fundamentals
Aesthetic Perception
Design Innovation
Creativity and Innovation
Design Methods
Design Ergonomics
Occupational Health and Safety
Ergonomic Tools and Techniques
Classroom Presentation Techniques
Course brochure
---
Course Benefit
Faculty members and students/ research scholar engaged in technical education (Engineering/ Design), will be sensitized towards importance of the 'Ergonomics discipline'.
Encouraging research scholar and faculty members to implement principles of ergonomics proactively in their design development of models/ tools/ equipment or any other projects.
Hands-on training for prepringpresentation for classroom demonstration of technical topic in an attractive manner.
Participants will become aware about the various facilities/ instruments avilable in Ergonomics Laboratory, Department of Design, IIT Guwahati.
Methodology
Illustrated Lectures.
Interactive Sessions.
Hands-on experience in Ergonomics Lab.
Laboratory and Workshop visit of the Department.
Resource Person
Faculty members of Department of Design, IIT Guwahati will deliever lectures on different topics.

Course Material
Each participant will be provided with a set of course material on the subject.

---