Dr. Natesan Srinivasan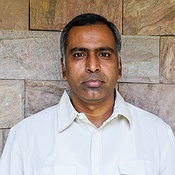 brief cv
---
researcher area
---
Numerical Solution of Singular Perturbation Problems - Finite Difference/Element/Volume Methods
Homogenization, Multi-Scale Problems: Bloch Wave Decomposition - Numerical Methods
Efficient Numerical Methods for Fractional-Order Differential Equations
Computational Finance
Big Data Analytics - Machine Learning
Domain Decomposition & Parallel Computation of Differential Equations
Computational Fluid Dynamics
Awards & Distinctions
---
University First Rank Holder in M.Sc. Appl. Maths., Bharathidasan Univ., Tiruchirappalli, India, 1991
Qualified in the Joint CSIR-UGC National Level Test in Mathematics, June & December 1992.
Selected for Research Associateship (RA) by the Council of Scientific and Industrial Research [CSIR], Jan 1999.
Selected for Postdoctoral Fellowship under FONDAP programme in Applied Mathematics by the National Committee of Science and Technology [CONICYT], Government of Chile.