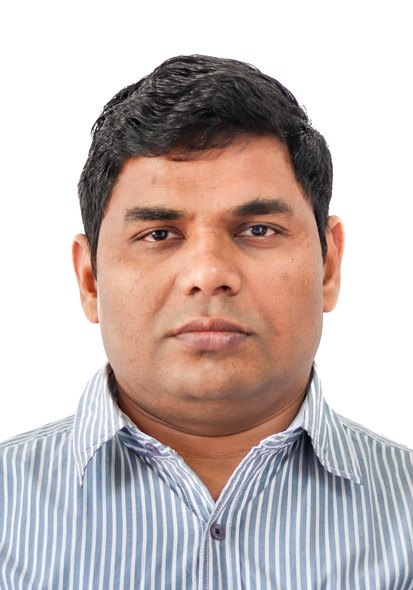 Ph. D. (IIT Kanpur)
Designation:
Associate Professor
Dr. R. K. Sonkar joined the institute in 2011.
Contact Details
Office Address
: Room No. 005, EEE Department, IIT Guwahati, Guwahati-781039, INDIA.
Phone:
+91 361 2582535 (O)
Fax:
+91-361-2582542
Email:
sonkar[AT*]iitg.ac.in
Research Areas
Silicon Photonics, Integrated Photonics, Fiber lasers Optoelectronics Device Characterization and Fabrication, Microelectronics and III-V Compound Semiconductors, Photonics Integrated Circuits, Fiber Optics Communication, Non-invasive measurement of physiological parameters of human blood, Structural health monitoring, Antennas, Vacuum Electron Devices.
Professional Memberships
Member, IEEE (No. 80181990)
Member, SPIE (No. 3448583)
Member, Optical Society (No.924752 )
Member, IEEE Photonics Society
Fellow, Optical Society of India (No. 0986
Fellow, The Institution of Electronics and Telecommunication Engineers (IETE) (No. F-500542)
Member, The Institution of Engineers (India) (No. M-152393-1)
Member, Academic Society of Science Engineering and Technology (AM1809F11)
Teaching
Undergraduate: Semiconductor Devices, Digital Circuits and Microprocessors, Digital Circuits Laboratory, Basic Electronics Laboratory, Analog Integrated Circuits, VLSI Laboratory, Design Laboratory, Microwave Engineering Laboratory
Postgraduate: Semiconductor Device Modelling and Technology, Semiconductor Device Modeling, Semiconductor IC Technology, Fiber Optic System, Optical Systems Laboratory, Photonics Devices and Circuits, Optical Networks, Photonics Integrated Circuits, Fiber Optics Communication
Courses
Visit course homepage (Intranet)