Welcome to Akshara Pre-Primary School at IIT Guwhati
Each Soul is Potentially Divine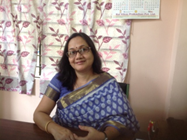 You never see the foundation of a building, but upon it the Building stands. Such is its importance. Our Akshara also draws its inspiration from this parallel. With a solemn pledge to cater to the growing needs of IIT Guwahati fraternity, Akshara had a modest beginning in 2004 with 55 tiny tots. Our aim was and still is to give these budding buds a launching platform from where they can assimilate to the formal education smoothly. Handling and nurturing kids as young as 2+ is not everybody's cup of tea. And we know sacred work is never for lesser mortals. All along, our endeavour was firmly on guiding these young souls, however small they may be and however tiny the period may be. In life lessons, every drop counts.
As is inevitable with all scared institutions, our Akshara has started to grow and as responsible corporate leader, reached to the near-by areas. And today students from IITG fringe areas make up almost 40% of the total 170.
At this juncture of launching our very own website, We fondly remember our founder principal Mrs. Panchali Mahanta and all those whose contributions have gone a long way towards establishing and running this institution so successfully. We bow our head in reverence. At the same breath, we again commit ourselves to the cause of this noble work. Let's continue the journey....
(Mridula Goswami Sarma)