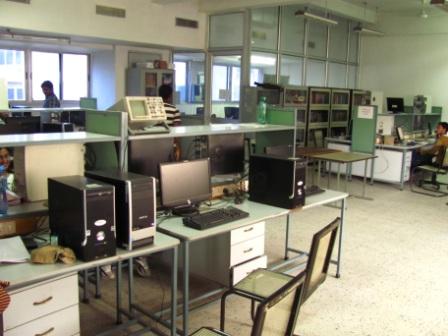 Research Areas
Development of VLSI Architectures for Signal Processing and Communication Algorithms, VLSI Design and Hardware Verification.
Research and Activities
The research activities in the VLSI Group mainly focus on Digital and Analog circuit design. The department is a part of SMDP II programme and the major CAD tools have been made available by the Ministry of Communications and Information Technology. A novel inductor structure is developed, and for verification a VCO and LNA designs and layouts have been completed. The group is enrolled with Euro Practice for getting designs fabricated.
Sponsored Projects

Project Title
Sponsoring Agencies
Investigators
Special Manpower Development Programme in VLSI Design and related software (SMDP-II)
MIT, Govt. of India
Principal Coordinator:
Dr. S. Dandapat
Project Coordinator:
Prof. Roy Paily P

Digital VLSI Design Virtual Lab
Under the National Mission on Education through ICT
Principal Coordinator:
Prof. Roy Paily P

Design, fabrication and testing of low analog front-end chip for heart rate detection
DST, Govt. of India.
Principal Coordinator:
Prof. Roy Paily P

Establishment of new National MEMS Design Centres
Aeronautical Development Agency, Banaglore.
Principal Coordinator:
Prof. Roy Paily P

Design of Carbon Nanotube Field Effect Transistor (CNFET) Based Amplifiers
Semiconductor Research Corp., Durham.
Principal Coordinator:
Prof. Roy Paily P

Resources Available
The hardware facilities consists of FPGA development kits from Xilinx and Altera Inc. along with high-end software tools and packages for VLSI design and synthesis namely Cadence Bundle, Synopsys Tools Bundle, Magma Standard University, CoWare Tools, Mentor Tools Bundle, Xilinx ISE Foundation Software and XUP Spartan - 3E Starter Kits, Altera Quartus design environment along with Nios-II and other IP packages.